Check out my planned breeding page for info on upcoming litters and adult dogs that are available. 
**** WE HAVE PUPPIES AVAILABLE!***
NOTE: NOT all of the dogs listed on my website live here. We have a house, not a kennel. All puppies and dogs are family dogs. We co own dogs. I've had people think I have all of these dogs at my house  which is not true. My family lives here so I am cautious about who comes over. Also, there are crazy animal right activists that like to cause problems with breeders. 


Julie Lahr          
Fairfield, CA
707-363-0684
LahrGSP@aol.com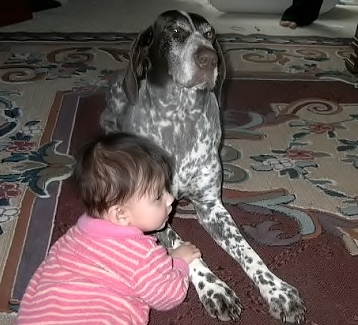 The German Shorthaired Pointer, gun dog, show dog, versatile in field, hunting game birds.
        ... and as a loyal companion


Something I found in the Shorthair journal. Thanks Carol! It means a lot to have found this nice memoriam that you wrote for my Grandma.


From the Sept.1990 issue of Shorthair Journal

"In Memoriam"
I have just learned of the death of Amelia Lahr last Friday. We have all lost a great friend with her passing.
My earliest remembrance of Amelia are at fun matches at Cal State,Hayward almost 11 years ago. I had two very young pups and had just come to watch and see what a match was all about. My two young friends were not prepared to participate, But it was Amelia who encouraged us to enter and begin to experience the many facets of owning a GSP.
Amelia was the first person to breathe the word "Dual" into my vocabulary and conscience. She has believed in the Dual champion GSP all the years I have known her. Her entire family actively persued showing and field trialing while working tiressly for the GSP club of California. Amelia never missed an opportunity to bring newcomers,like myself into her GSP family. She didn't just dream of owning a Dual, she dreamed of everyone owning Dual GSP's. I promise to keep on trying, Amelia!!
While the last few years have brought serious illness and great physical discomfort to Amelia, It rarely dampened her enthusiasm to participate in club events. I am sorry that her energy and boundless dedication to our breed will not reward her with a Dual of her own. But Amelia is at peace, at last, and I'll just bet Ziggy and Cookie are delighted to have their beloved mistress at their side again.
Thanks for all your caring, Amelia!
Carol Chadwick
Northwood Mt.Kennels




We are active with our dogs in many activities like hunting, conformation, biking and just playing. Our dogs are family first ! We train and practice mostly at home and at local clubs. Our dogs live in the house and are fed a premium diet, while also getting the mental and physical stimulation they need to be happy healthy German Shorthairs!

Our goals in breeding are to continue the breed by producing future generations with the characterisitcs we all love and appreciate about the german shorthair. While also focusing on important qualities like health, temperament, structure, & hunting ability/instinct. Without putting one before the other, but looking at all qualities as equally important when planning for the future.
German Shorthaired Pointers have not achieved a place of prominence among purebred dogs without good reason.
These highly intelligent dogs have proven themselves equal to almost any role a dog could be asked to fill in competition ,sports or family life.
         ~~~~~~~~~~~~~~~~~~~~~~~~~~~~~~~~~~~~~~~~~~~~~~~~~~~~~~~~~~~~~~~~
---
You are visitor number: 134584
German shorthaired pointers, Shorthairs, GSP, GSPs, German shorthair, Breeder, California, West Coast, US, Bird dog, puppies, AKC, Field Trials, Lahrheim, Brie, Jaz, Scout, National Specialty, Photos, GSPCA, National Specialty Show, GSP puppies, Humt Test, Shorthair, Pointers, Mo, Breeding, AKC, NSS,placer country, placer c'ntry,rocket, rocky,jimandee,khrispat,von jango, vjk,myst,Show leads, Kangaroo leads, dog show lead, leash, show leash, all colors,leads, leashes, kanga leads, german shorthair pointers, german shorthair pointer puppies, gsp puppies,
german shorthair breeders ny, german shorthair dogs, german shorthair California, lead,Northern California, N.CA, GSH pointer, puppies, GSP puppies, Fairfield, California, beaded show lead, beaded show leash, show leash,family rasied, kennel, good with kids, hunting dogs, show s, champion, liver and white, ticked, solid liver, liver, quality dogs, qualitydogs.com