Companion pups will go on limited registration and if kept on full reg. I stay on as co owner until a title is received and all health testing done.This protects the pups from just going to someone who only wants to breed.
Please don't email me asking for a runt, because you might think they are cheaper. A runt is a term people made up for the sickly pups. We do sometimes have smaller pups in the litter but there is nothing wrong with them. The grow up to be the same size as the others and are priced the same. All of my pups are the same price no matter if they are show pups or not. And just because I choose one for myself to show does not mean the others aren't quality pups.

When I breed I breed for myself, to keep a puppy, I don't give anyone first pick. We evaluate the litters around 7 1/2 weeks. Then the people who have deposits will be able to get their pups no earlier than 8 weeks
old. These are well bred puppies so any pup in the litter would be awesome as a companion, It does not matter if you are getting 3rd pick or the last one. All are equal. Only irresponsible/back yard breeders allow new owners to pick pups at a very early age. 
the term back yard breeder is used for a breeder who breeds for no reason other than to produce puppies to sell. They don't do the genetic testing on the parents that should be done. Ours do have the testing. So you know our pups do not carry bad genes  
Please read what is written above. I have had people emailing me who said they read it but still ask me the same questions.
NO PUPPY will be picked before 8 weeks! I go in order of when I got the deposits. Been doing it this way forever. The pictures of the puppies are the ones in this litter, it doesn't mean those are the ones that are available. We wont know which ones will be available until I evaluate them.
I have had to turn away so many people. You have to agree to my contract, and wont spay or neuter before 24 months.

If the color of the pup is more important than a well-bred GSP I suggest you find a breeder that breeds for color. I breed for health, temperament, excellent conformation, and hunting ability. My dogs and puppies are kept in the house. They are not kennel dogs.  My dogs have titles and are worked with. My pups are handled daily.  I've been breeding GSP's for 25* years, and in the breed my whole life.   There are puppy mills and back yard breeders that do breed for color.  You may want to contact them. 
              Email me at LAHRGSP@aol.com
No puppies due at this time. But I do have a beautiful 2 year old (Just turning 2 on 6/26)male champion available.
He can go as a pet or to someone who would like to continue to show him. Price will be different if he is used for breeding and showing.
$2500 as a pet and no breeding rights. $5000 with breeding rights, he does have some health clearances done, he needs his hips and elbows xrayed and graded by OFA before he is bred! Heart is OFA normal certified by a Cardiologist, and his eyes are OFA normal, seen by an ophthalmologist.
He has an excellent temperament! And I know he would make a great hunting dog if given the opportunity.
His name is Draco.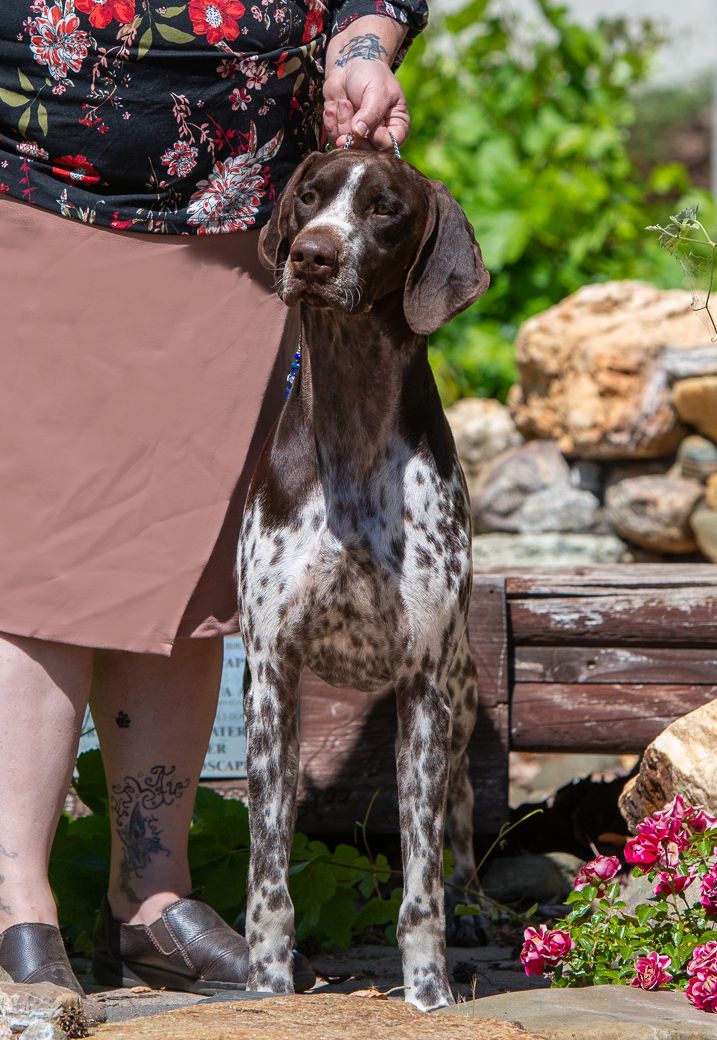 Check out our planned breeding page  
These puppies are not available. Just a photo of a past litter.